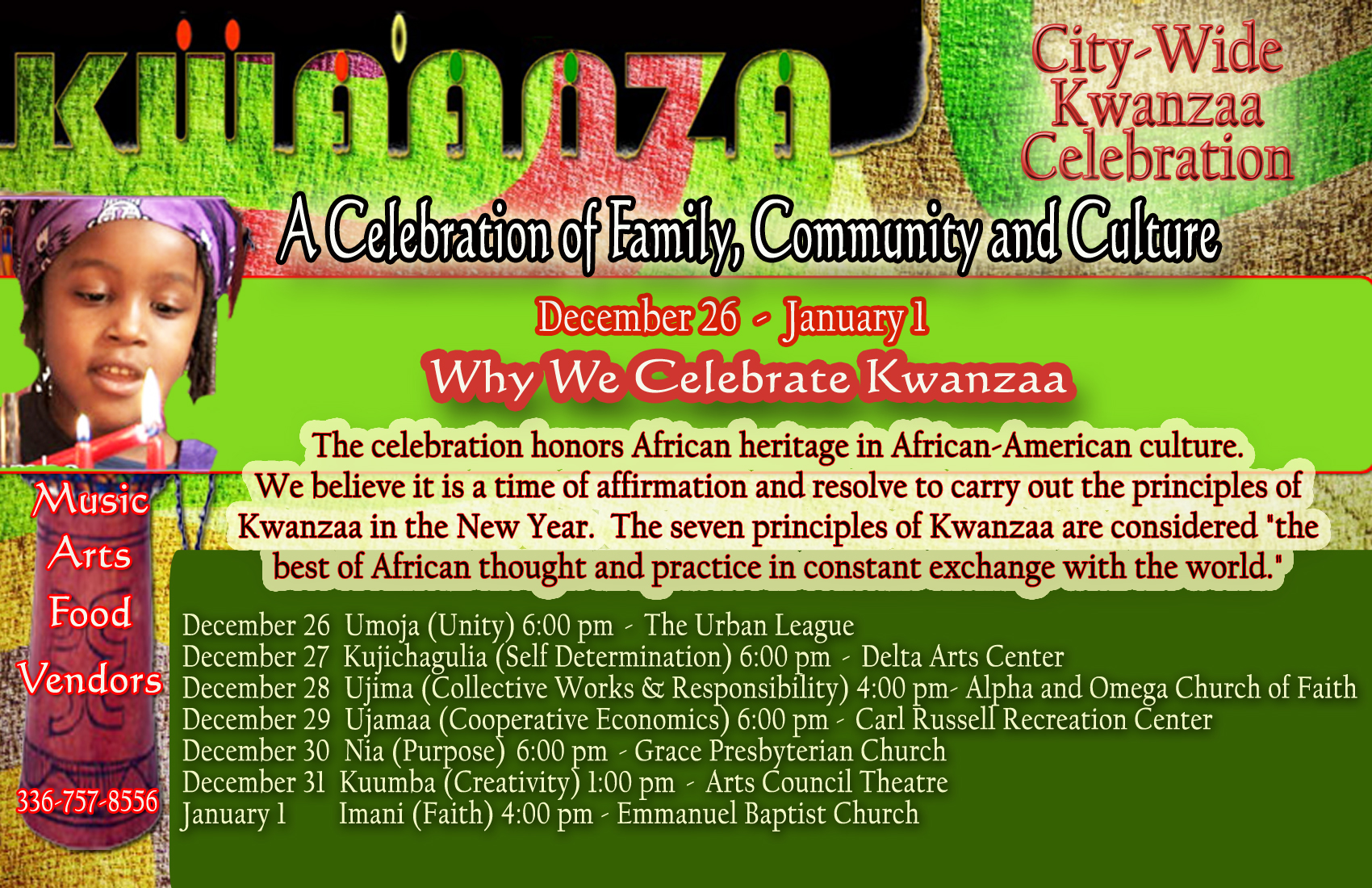 7 Days of Positive Affirmation!
December 26, 2014 - January 1, 2015
Umoja (oo-MO-jah) -

Unity stresses the importance of togetherness for the family and the community, which is reflected in the African saying, "I am We," or "I am because We are."

Affirmation: Living In Harmony With Those Inside and Outside My Circle

Friday, December 26 Umoja (Unity)

6:00 pm - The Urban League

201 West 5th Street, Winston-Salem

Speaker: Dr. John Mendez, Pastor, Emmanuel Baptist Church

Honoree: Dr. Stephen Boyd

Special Recognition: Diggs Latham Male Mentoring Program

Sponsor: Winston-Salem Urban League Contact: 336-725-5614

Enjoy the opening of the Kwanzaa celebration with African dance and drumming by the Otesha Creative Arts Ensemble, liturgical performances and traditional refreshments!

Mendez Boyd

Kujichagulia (koo-gee-cha-goo-LEE-yah) - Self-Determination requires that we define our common interests and make decisions that are in the best interest of our family and community.

Affirmation: Doing All That Is Set Before Me

Saturday, December 27 Kujichagulia (Self Determination)

6:00 pm - Delta Arts Center, 2611 New Walkertown Rd

Winston-Salem

Speaker: The Honorable Judge Denise Hartsfield

Honoree: Marvette Aldrich, Artist

Sponsor: Delta Fine Arts, Inc. Contact: 336-722-2625

View the extraordinary exhibition, EXPERIENCING TOLLIVER - 22 original works that are reminiscent of William Tolliver's childhood growing up in rural Mississippi.

Hartsfield Aldrich

Ujima (oo-GEE-mah) - Collective Work and Responsibility reminds us of our obligation to the past, present and future, and that we have a role to play in the community, society, and world.

Affirmation: Never Leaving My Brother or Sister Unaided

Sunday, December 28 Ujima (Collective Work and Responsibility)

4:00 pm - Alpha and Omega Church of Faith

1445 N Gray Ave, Winston-Salem

Speaker: RaVonda Dalton-Rann

Honoree: Twana Wellman Roebuck

Sponsors: Alpha and Omega Church of Faith, St. Philips Heritage Center in Old Salem

Contact: 336-748-4787

Enjoy the majestic African American heritage music and a "Soul Food" dinner!

Dalton-Rann Wellman-Roebuck

Ujamaa (oo-JAH-mah) - Cooperative economics emphasizes our collective economic strength and encourages us to meet common needs through mutual support.

Affirmation: Using My Talents in Cooperation with The Talents of Others So Together We May Prosper

Monday, December 29 Ujamaa (Cooperative Economics)

6:00 pm - Carl Russell Recreation Center

3521 Carver Road, Winston-Salem

Speaker: Barbara Stowe, Advisor for the Top Teen Program
Honoree: Johnell Hunter of the Bless The Children Program

Sponsor: Carl Russell Recreation Center

Contact: 336-727-2580

Learn about area African American businesses at the Black Business Showcase!

Nia (NEE-yah) - Purpose encourages us to look within ourselves and to set personal goals that are beneficial to the community.

Affirmation: Finding My Path and Purpose Through Prayer, Meditation and Spiritual Readings

Tuesday, December 30 Nia (Purpose)

6:00 pm - Grace Presbyterian Church

3901 Carver School Road, Winston-Salem

Speaker and Honoree: Attorney S. Wayne Patterson

Sponsor: Grace Presbyterian Church

Contact: 336-722-4399, 767-7530

Experience African dance and drumming with the Otesha Creative Arts Ensemble and a pot luck supper!

Patterson

Kuumba (koo-OOM-bah) - Creativity makes use of our creative energies to build and maintain a strong and vibrant community.

Affirmation: Freeing Myself to Experience New Ideas, New Viewpoints, New Philosophies, New Understandings

Wednesday, December 31 Kuumba (Creativity)

1:00 pm - Arts Council Theatre,

610 Coliseum Drive, Winston-Salem

Honoree: Sam Art Williams, Playwright, Screen Writer, Stage/Film and TV actor

Sponsors: NC Black Repertory Theatre Company & Forsyth County Public Library

Contact: 336-703-2953

Enjoy performances by the NCBR Teen Theatre and taste the delicious foods of the Karamu Feast!

Williams

Imani (ee-MAH-nee) - Faith focuses on honoring the best of our traditions, draws upon the best in ourselves, and helps us strive for a higher level of life for humankind, by affirming our self-worth and confidence in our ability to succeed and triumph in righteous struggle.

Affirmation: Sweeping Away Fear of the Unknown, Past Regrets, Concerns for the Future and Meeting Each Day with Active Faith

Thursday, January 1 Imani (Faith)

4:00 pm - Emmanuel Baptist Church

1075 Shalimar Drive, Winston-Salem

Speaker: Dr. Carlton Eversley, Pastor, Dellabrook Presbyterian Church

Honoree: Emmanuel Baptist Church Social Action Ministry

Sponsor: Emmanuel Baptist Church

Contact: 336-788-7023

Panel Discussion: "What Shall We Tell Our Sons About Police Encounters?" Panelists include Solomon Quick, Pam Peoples Joyner, Ben Piggott, Elliot Miley, Ben Harris
Spoken Word Poetry: Micheal Hauser, Elijah Pone,

and Elliot Miley, Freedom Songs and spirituals

Eversley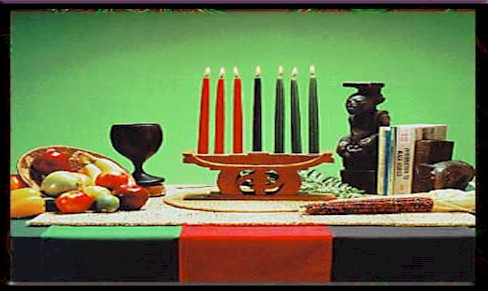 Brief History of Kwanzaa
Kwanzaa was created out of the philosophy of Kawaida, which is a cultural nationalist philosophy that argues that the key challenge in black peoples' lives is the challenge of culture, and that what Africans must do is to discover and bring forth the best of their culture, both ancient and current, and use it as a foundation to bring into being models of human excellence and possibilities to enrich and expand our lives. It was created in the midst of our struggles of liberation in the 1960's and was part of our organization US" efforts to create, recreate and circulate African culture as an aid to building community, enriching black consciousness, and reaffirming the value of culture grounding for life and struggle.

Kwanzaa is celebrated by millions of people of African descent through out the world African community. As a cultural holiday, Africans practice it from all religions, traditions, all classes, all ages and generations, and all political persuasions on the common ground of their African ness in all its historical and cultural diversity and unity.
-Maulana Karenga
"Kwanzaa: A Celebration of Family, Community and Culture"
Kwanzaa In the Triad
Rachel and Duane Jackson of Winston-Salem had friends in Greensboro, NC, Barbara Ferguson Kamara and her husband Musa, a native of Sierra Leone, Africa. They had been celebrating Kwanzaa with a Pan African Organization affiliated with A&T State University each year...The Jackson's were invited to attend as their guest for 3 years...It was an awesome and wonderful cultural experience, held at the East White Oak Community Center in east Greensboro. The Jackson's were very active in the programs at the East Winston Branch library...Their main focus was on how to increase the circulation of books and developing a tutorial/after school program for students K-12 grade. They presented the idea of celebrating Kwanzaa to the East Winston Friends of the Library, and the group decided to sponsor the celebration. The branch head and staff embraced the idea of Kwanzaa, and the principle, Kuumba (Creativity) was always presented there as an annual event....Branch heads and library staff involved in the early years were: Margaret Allen, Dottie Butler, Jane Steele, Barbara Anderson, Pat Wright Stepney, Shirley Hairston Hollaway, Renee Brown Andrews, Tim Jackson. Sylvia Sprinkle Hamlin, then the head of Children's Outreach Program, pushed for the celebration to become an official part of the library's program......... Some other folk involved in implementing and supporting Kwanzaa were people like, J. C. Simpson- chair of the Friends group, Louise Wilson- ESR director, Mrs. M. Earl F. Benson- tutorial coordinator, Maize Woodruff- library board, Bill Jackson- a poet and rapper, Santana- a photographer, Joseph and Gail Anderson- The Healing Force, Burning Spear- Reggae Band, Amattullah Saleem, and Hashim Salih-Otesha Dancers.

The City-wide Kwanzaa observance at seven different settings came about as a result of the collaboration between the Kemet School of Knowledge of Emmanuel Baptist Church and parties around the city who were willing to participate. Felecia Piggott McMillan went to solicit participants who opened their homes, centers and churches in 1989-1990. Those participants included Ernie and Elaine Pitt, Rev. Dr. John Mendez, Rev. Dr. Carlton Eversley, Rev. Willard Bass, and Dianna Bass, Benjamin Piggott, Felecia Piggott McMillan and family, the W-S Urban League with Dr. D. Smith, the North Carolina Black Repertory Company, The Forsyth Public Library, Grace Presbyterian Church and others. The city-wide concept became a living organism involving more and more organizations and participant's. The City-Wide Kwanzaa committee was later chaired by Rutherford Moorman, of the East Winston CDC/Neighbors for Better Neighborhoods. Luci Vaughn was the co-chair. The meetings were held at the Winston Lake YMCA. The committee included, among others, Renee Andrews, Emma Shouse, Cheryl Harry, and Dana Suggs, who introduced her own personal designed Kwanzaa pins. The Arts Council provided a grant to committee to produce the night of Kumbaa that was held at the Winston Lake YMCA. Renee Andrews took on the unofficial title of convener of the city-wide committee and pulled everyone together each year. Under her leadership, Triad Cultural Arts, Inc was approached in 2007 to take on the official role of convener of the City-Wide Kwanzaa Committee.

(This history is a living organism and will continue to expand. If you have history that needs to be include please email: charry@triadculturalarts.org If you lose your history, you lose your power)