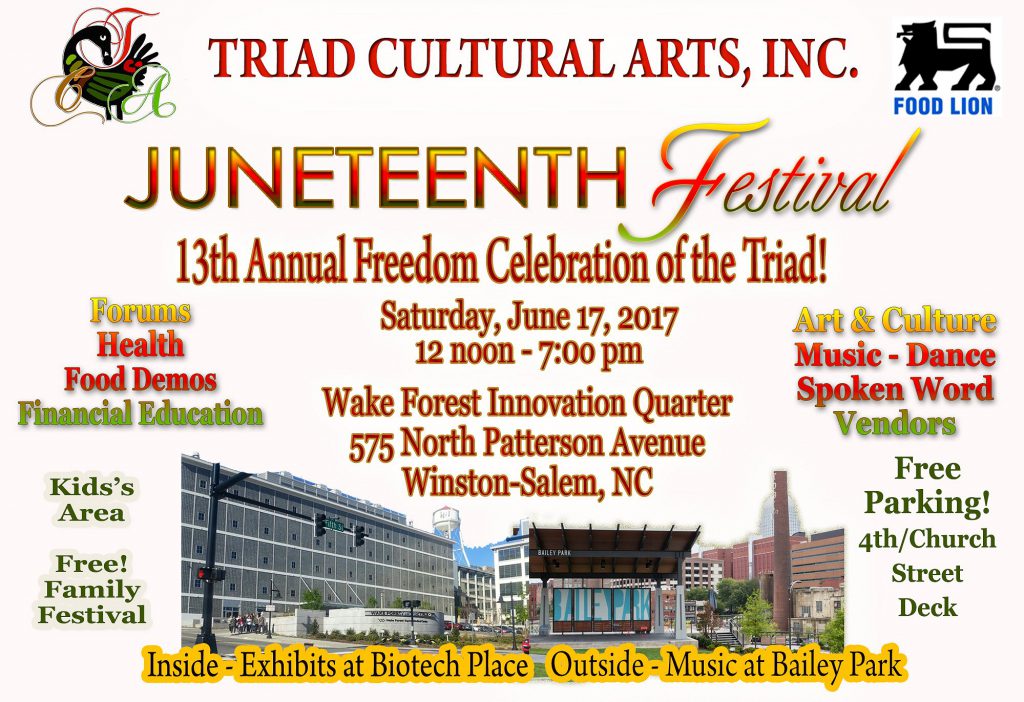 SAVE THE DATE!
Saturday, June 17, 2017 | 12 noon – 7 pm
Join us at Wake Forest Innovation Quarter
5th Street and Patterson Avenue
Festivities Inside and Outside!
Triad Cultural Arts, Inc. will sponsor its annual Juneteenth Celebration. Juneteenth is our country's longest running observance of the abolition of slavery in the United States..  Come out to remember and commemorate this milestone event in our nation's history.
The Juneteenth Music festival has five integral components:
–   Music and Dance — Performances by groups that reflects African American culture – African Dance, Jazz, Rhythm & Blues and Gospel.
–   Arts and Education — Presentations by exhibitors and artists through an Art Exhibit, Quilting,    Meet the Author, Heritage Demonstrations, Relics and Artifacts.
–   Youth Area — Youth participate in cultural Games, Arts and Crafts, Music and Dance, and Face Painting
–   Health and Community – Health Screenings, Community Services, Voter Registration
–   Marketplace — Vendors from across the state provide ethnic products, attire and foods associated with the African American cuisine
Event Sponsors