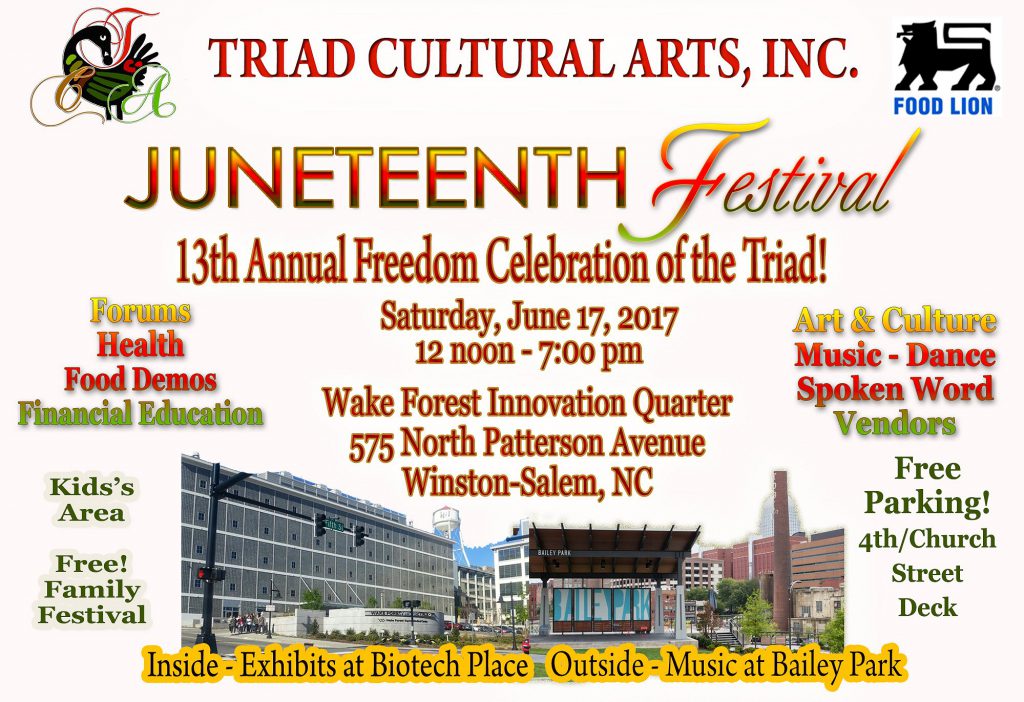 Saturday, June 17, 2017 | 12 noon – 7 pm
Join us at Wake Forest Innovation Quarter
5th Street and Patterson Avenue
Festivities Inside and Outside!
Come out to remember and commemorate Juneteenth, a milestone event in our nation's history.
ON THE INSIDE – BIOTECH PLACE!
– 12:00 pm – 4:00 pm – Educational Displays, Arts and Crafts, Health, Historical Exhibits, Community Displays, Merchandise Vendors
– 2:00 pm – Open Seminar with Dr. Kimya Dennis
Stress reduction and other mental-emotional issues that can impact us, our families, and our communities. Snacks will be provided.
ON THE OUTSIDE – BAILEY PARK!
–  12:00 pm – 7:00 pm – Food Lion Healthy Food Tastings, Performances, Dance Workshops, Merchandise Vendors, Food Vendors, Youth Activities, More!
PERFORMANCE SCHEDULE

Inside – BioTech


Outside – Bailey Park


Outside – Big Tent

12:00 – Tribute to
Al Jarreau

Fitness with Keya Jammeh 

12:30  Big Ron
Hunter – (Blues)

Tribute to
Chuck Berry

12:00 Boss
Drummers

1:30 Galvin Crisp
(Jazz)

12:30  – 5:30
pm

Greater Vision


Kid Zone

– Crafts

-Face Painting

– Games

1:15 Tre Town
(Motown)

 

2:30   Keith Bryd
(Jazz)

2:00 Dance

–
Ja'Nihya Carter-Blue

– UBC Tappers

3:30   Reggie Buie
(Jazz)

2 pm  |3 pm  | 4 pm

 Greater Vision
Youth Dance Workshop
with Wayne Mufasa Jones




2:30 – F.O.C.U.S
(Gospel)

 

4:30    Diana
Tuffin (Jazz)

3:00 –
Exercise/Line Dancing-

Key Jammeh


5:30   Cinnamon
(Reggae)

 

6:30 pm Oteshea
Creative Arts
(African Dance)
The Juneteenth Festival has five integral components:
–   Music and Dance — Performances by groups that reflects African American culture – African Dance, Jazz, Rhythm & Blues and Gospel.
–   Arts and Education — Presentations by exhibitors and artists through an Art Exhibit, Quilting,    Meet the Author, Heritage Demonstrations, Relics and Artifacts.
–   Youth Area — Youth participate in cultural Games, Arts and Crafts, Music and Dance, and Face Painting
–   Health and Community – Health Screenings, Community Services, Voter Registration
–   Marketplace — Vendors from across the state provide ethnic products, attire and foods associated with the African American cuisine
Event Sponsors
Food Lion – Presenting Sponsor!