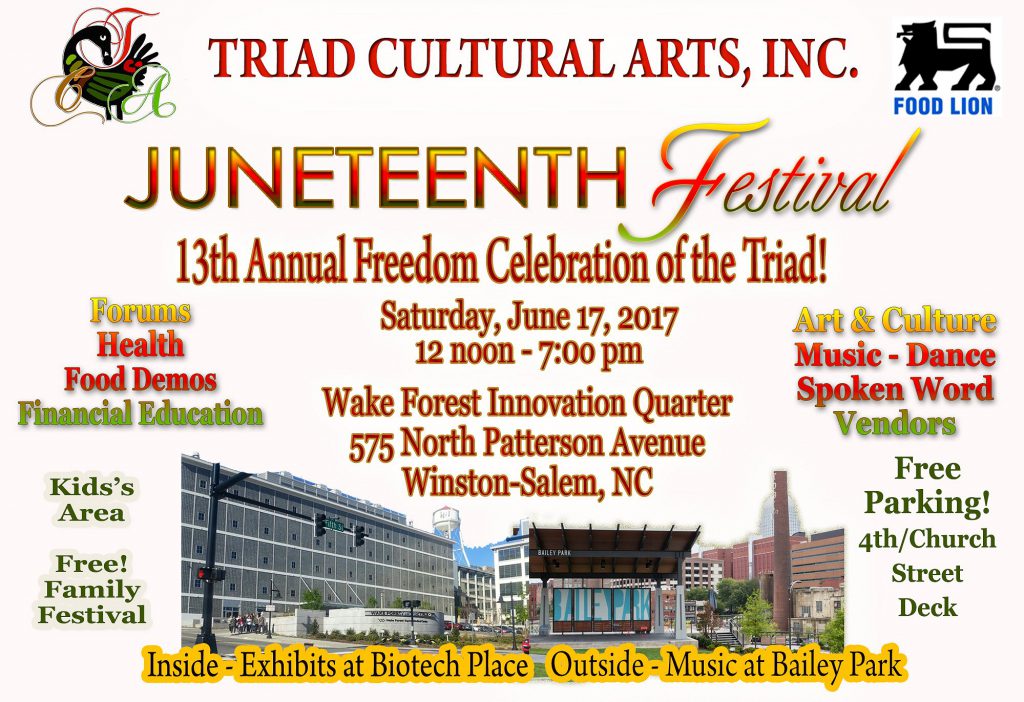 Saturday, June 17, 2017 | 12 noon – 7 pm
Join us at Wake Forest Innovation Quarter
5th Street and Patterson Avenue
Festivities Inside and Outside!
Come out to remember and commemorate Juneteenth, a milestone event in our nation's history.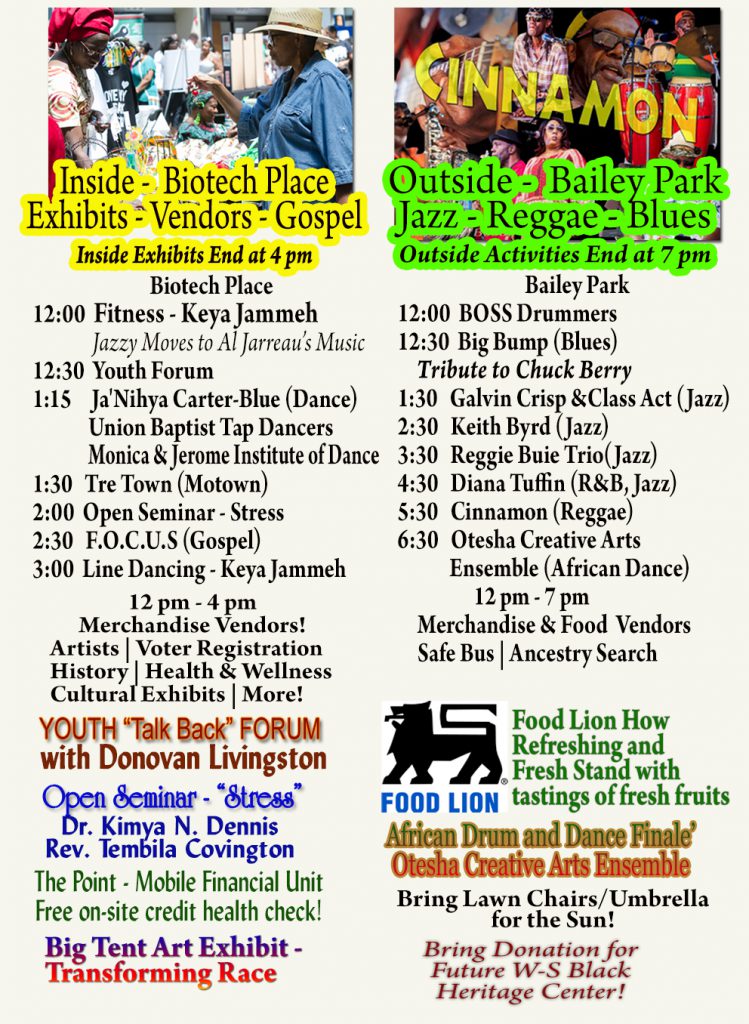 ON THE INSIDE – BIOTECH PLACE!
– 12:00 pm – 4:00 pm – Educational Displays, Arts and Crafts, Health, Historical Exhibits, Community Displays, Merchandise Vendors
– 12:30 pm – Youth Forum featuring Donovan Livingston
– 2:00 pm – Open Seminar with Dr. Kimya Dennis  and Rev. Tembila Covington
ON THE OUTSIDE – BAILEY PARK!
–  12:00 pm – 7:00 pm – Food Lion Healthy Food Tastings, Performances, Dance Workshops, Merchandise Vendors, Food Vendors, Youth Activities, More!
Note:  Gary Red Band is replacing Big Ron Hunter Band
Big Tent Art Exhibit – Transforming Race


The work of Ann Nguyen will be on view in an exhibit under the  BIG TENT entitled "REDEFINING REPRESENTATION." A recent grad of Wake Forest, Ann's photographic interpretation and criticism of the original "Shirley cards" used to calibrate color photo printing, with their implicit color bias.
The Juneteenth Festival has five integral components:
–   Music and Dance — Performances by groups that reflects African American culture – African Dance, Jazz, Rhythm & Blues and Gospel.
–   Arts and Education — Presentations by exhibitors and artists through an Art Exhibit, Quilting,    Meet the Author, Heritage Demonstrations, Relics and Artifacts.
–   Youth Area — Youth participate in cultural Games, Arts and Crafts, Music and Dance, and Face Painting
–   Health and Community – Health Screenings, Community Services, Voter Registration
–   Marketplace — Vendors from across the state provide ethnic products, attire and foods associated with the African American cuisine
Event Sponsors
Food Lion – Presenting Sponsor!