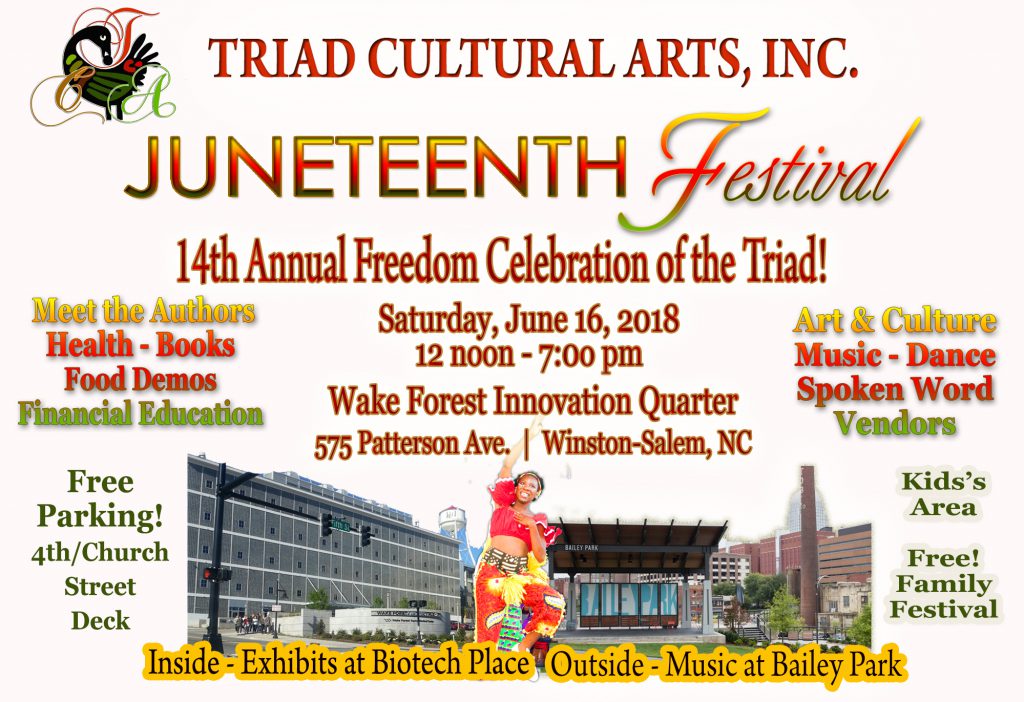 Saturday, June 16, 2018 | 12 noon – 7 pm
Join us at Wake Forest Innovation Quarter
5th Street and Patterson Avenue
Festivities Inside and Outside!


Come out to remember and commemorate Juneteenth, a milestone event in our nation's history.
ON THE INSIDE – BIOTECH PLACE!
– 12:00 pm – 4:00 pm – Educational Displays, Arts and Crafts, Health, Historical Exhibits, Community Displays, Merchandise Vendors
– 12:30 pm – Spoken Word Session – Beginners and Advanced
– 2:00 pm – Health Seminar
ON THE OUTSIDE – BAILEY PARK!
–  12:00 pm – 7:00 pm – Food Lion Healthy Food Tastings, Performances, Dance Workshops, Merchandise Vendors, Food Vendors, Youth Activities, More!
The Juneteenth Festival has five integral components:
–   Music and Dance — Performances by groups that reflects African American culture – African Dance, Jazz, Rhythm & Blues and Gospel.
–   Arts and Education — Presentations by exhibitors and artists through an Art Exhibit, Quilting,    Meet the Author, Heritage Demonstrations, Relics and Artifacts.
–   Youth Area — Youth participate in cultural Games, Arts and Crafts, Music and Dance, and Face Painting
–   Health and Community – Health Screenings, Community Services, Voter Registration
–   Marketplace — Vendors from across the state provide ethnic products, attire and foods associated with the African American cuisine.
Presenting Partners
Diamond Partner
Silver Partners