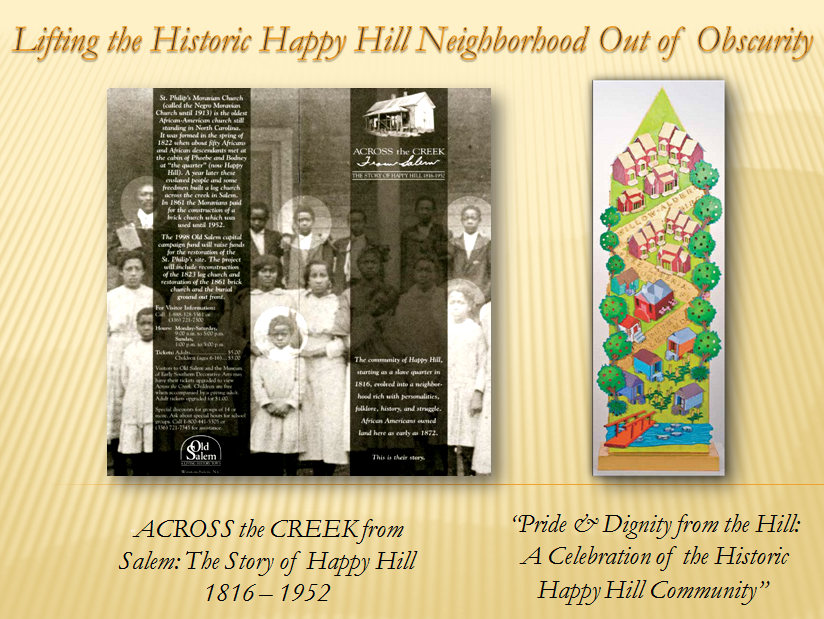 Background – In 1998, Old Salem Museums & Gardens mounted an exhibit entitled "ACROSS the CREEK from Salem: The Story of Happy Hill 1816 – 1952," which spanned a 130 year     period from slavery to freedom.   Mel White, former director of African American Programs and residents of Happy Hill and other African American communities in Winston-Salem shared old photographs, books, documents, artifacts retrieved from their family histories.  The exhibit provided a pictorial   history of the city's first African American neighborhood.
In 2005, Belinda Tate, former Director of the Diggs Gallery at Winston-Salem State University and visual artist Chandra Cox, Chair of the Department of Art and Design at NC State began work on a major visual arts project entitled "Pride and Dignity from the Hill: A Celebration of the Historic Happy Hill Community"  to recapture the spirit of Happy Hill.  The work culminated in 2010 with a major exhibit which displayed the work of local artists and nationally renowned artists.
Project Vision- The vision of Triad Cultural Arts, Inc. is to establish the Happy Hill Heritage Center in the historic Happy Hill neighborhood utilizing an extant and relocated shotgun house. The center would showcase a missing history, reinvigorate a culture and reclaim the legacy of those men and women who worked to make a life for their families, pre and post emancipation.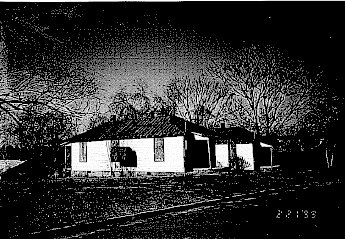 1999 photograph of two shotgun houses on Humphrey Street (only one remaining)
Project Context- Built in the early 20th century, the two shotgun houses are located in the historic Happy Hill community, the first planned African American neighborhood in Winston-Salem dating back to 1872.  It was once the center of African American life in the city.
Shotgun houses once populated the Happy Hill community and neighborhoods throughout the city. Relatively inexpensive to construct, the shotgun house is rectangular, one room wide, and up to three rooms deep with a front porch.  Scholars believe that this tradition may have originated from Yorubaland (West Africa) via Haiti to the American South. The word shotgun itself is derived from the Yoruba word to-gun. In Yoruba this word means place of assembly, or where people gather. (African American Architecture : A Hidden Heritage, Joseph E. Holloway, Ph.D., slaverebellion.org) 
Today there are only a few remaining shotgun houses in Winston-Salem. Referred to as "vessels of memory," their architectural style is an iconic symbol of African American freedom.  They echo the African American experience throughout the south.
Join Triad Cultural Arts in making the Happy Hill Shotgun House Project Dream a Reality!
Help us lift the historic story of Happy Hill, Winston-Salem's first planned African American community, out of obscurity and herald the architecturally significant shotgun house as an iconic symbol of African American freedom!    Let's repurpose their use for education and the perpetuation of African American history and culture for generations to come!
Call 336-757-8856 or charry@triadculturalarts.org
Happy Hill: Pride and Dignity 2006 by Chandra Cox