Experience Winston-Salem!
August 2 – 4, 2017
HANDS ON HISTORY – CLOSED OUT
Travel back in time! This experience will take place in historic Old Salem. It includes hands-on activities including hearth cooking and tasting, making a craft and a guided tour of three (3) historic buildings.


Details:
– Jerome Bias, an expert in culinary history and agriculture of the 18th and 19th centuries, will bring demonstrate cooking techniques and discuss historic African American cooking and foodways. Taste sultry dishes prepared with vegetables from the gardens of Salem.
– Leo Rucker, historic interpreter and visual artist, will lead a gourd painting demonstration. Participants will take away a personal painted egg gourd. Gourds are native to Africa and a part of Old Salem's African/American Homowo Harvest Seed Collection.
– Tour of (1) St. Philips Heritage Center which includes the reconstructed 1823 African Log Church, the restored 1860 church where the ending of slavery was announced (oldest standing African American church in North Carolina), (2) the Single Brothers' House and (3) The Miksch House and Gardens. The terrain in Old Salem is very uneven, and the tour requires walking up hill.
LEGACY TROLLEY TOUR – AROUND TOWN – CLOSED OUT
– Tour Winston-Salem's African American art galleries, historic and arts districts, view North Carolina's oldest African American church and more!  This tour will take you off the beaten into some of the city's most intriguing sites.  End with a wine tasting of North Carolina wines!
CV&H is excited to be the Finale to Your Around The Town Trolley Tour! Visit Your Destination for North Carolina Wine, Craft Beer & More and Experience our Signature Line of Wines, made here in the Yadkin Valley + our other Signature Products and Scratch-Made Bites & Delights!  For your tasting, you'll enjoy samples of our Signature Wines, House-Made Sangria + a light lunch.
In 2012, Carolina's Vineyards & Hops was born.  Affectionately known as CV&H, this African-American owned tasting lounge is the first of its kind in the entire state and has become a unique place where the many fine products of North Carolina converge – from the wineries, breweries, creameries and farms – collectively bringing together the CV&H Experience.  Offering hundreds of wines & craft beers from North Carolina, you're sure to enjoy your CV&H experience each and every time.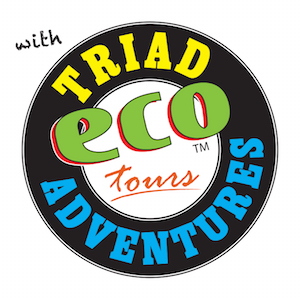 Trolleys provided by Triad Trolleys/Triad ECO Adventures
For More information:  charry@triadculturalarts.org or 336-757-8556