Greensboro - Winston-Salem - High Point
Held Annually in June
Juneteenth is a celebration of the country's longest-running observance of the abolition of slavery. It commemorates the day when slaves in the last geographic area in America where slavery existed learned of their freedom.
This took place on June 19, 1865, in Galveston, Texas, when Union General Gordon Granger read General Order #3, announcing that "all slaves are free" by Proclamation of President Abraham Lincoln. The Emancipation Proclamation was signed by President Abraham Lincoln on September 22, 1862, and issued on January 1, 1863. It took over two and a half years for the news to travel to southwest Texas.

As Texans of African American descent have migrated across the United States and settled elsewhere, they have taken the observance of Juneteenth with them. More and more descendents of slaves in other states are joining in the celebration and seeking in some instances to make the holiday a legal one in their respective states. Juneteenth has become a state holiday in Texas, Massachusetts, Florida, Oklahoma, Delaware, Alaska, Idaho, Iowa, California, Wyoming, Illinois, Missouri, Connecticut, Louisiana, New Jersey, New York, Colorado, Arkansas, Oregon, Kentucky, Michigan, New Mexico, Virginia, Washington State, Tennessee and the District of Columbia.
Join us as we celebrate and recognize those African-Americans who survived the inhumane and cruel institution of slavery. It is also on this day we pay homage to the ancestors who kept safe our language, songs and customs!
By connecting the present to the past, Juneteenth is a "homecoming" for all African Americans, helping to define their place within the African Diaspora.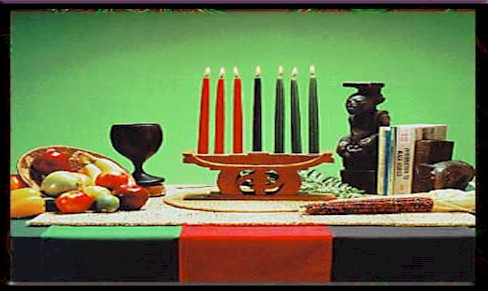 Kwanzaa Celebration
Held Annually December 26 - January 1
Kwanzaa, which means "first fruits of the harvest" in the African language Kiswahili, is a unique African American celebration with focus on the traditional African values of: family, community responsibility, commerce, and self-improvement.
The History of the Kwanzaa Celebration in the Triad
Kwanzaa Celebrations started in 1977
Rachel and Duane Jackson of Winston-Salem had friends in Greensboro, NC, Barbara Ferguson Kamara and her husband Musa, a native of Sierra Leone, Africa. They had been celebrating Kwanzaa with a Pan African Organization affiliated with A&T State University each year...The Jackson's were invited to attend as their guest for 3 years...It was an awesome and wonderful cultural experience, held at the East White Oak Community Center in east Greensboro. The Jackson's were very active in the programs at the East Winston Branch library...Their main focus was on how to increase the circulation of books and developing a tutorial/after school program for students K-12 grade. They presented the idea of celebrating Kwanzaa to the East Winston Friends of the Library, and the group decided to sponsor the celebration. The branch head and staff embraced the idea of Kwanzaa, and the principle, Kuumba (Creativity) was always presented there as an annual event....Branch heads and library staff involved in the early years were: Margaret Allen, Dottie Butler, Jane Steele, Barbara Anderson, Pat Wright Stepney, Shirley Hairston Hollaway, Renee Brown Andrews, Tim Jackson. Sylvia Sprinkle Hamlin, then the head of Children's Outreach Program, pushed for the celebration to become an official part of the library's program......... Some other folk involved in implementing and supporting Kwanzaa were people like, J. C. Simpson- chair of the Friends group, Louise Wilson- ESR director, Mrs. M. Earl F. Benson- tutorial coordinator, Maize Woodruff- library board, Bill Jackson- a poet and rapper, Santana- a photographer, Joseph and Gail Anderson- The Healing Force, Burning Spear- Reggae Band, Amattullah Saleem, and Hashim Salih-Otesha Dancers.......
The City-wide Kwanzaa observance at seven different settings came about as a result of the collaboration between the Kemet School of Knowledge of Emmanuel Baptist Church and parties around the city who were willing to participate. Felecia Piggott McMillan went to solicit participants who opened their homes, centers and churches in 1989-1990. Those participants included Ernie and Elaine Pitt, Rev. Dr. John Mendez, Rev. Dr. Carlton Eversley, Rev. Willard Bass, and Dianna Bass, Benjamin Piggott, Felecia Piggott McMillan and family, the W-S Urban League with Dr. D. Smith, the North Carolina Black Repertory Company, The Forsyth Public Library, Grace Presbyterian Church and others. The city-wide concept became a living organism involving more and more organizations and participant's. The City-Wide Kwanzaa committee was later chaired by Rutherford Moorman, of the East Winston CDC/Neighbors for Better Neighborhoods. Luci Vaughn was the co-chair. The meetings were held at the Winston Lake YMCA. The committee included, among others, Renee Andrews, Emma Shouse, Cheryl Harry, and Dana Suggs, who introduced her own personal designed Kwanzaa pins. The Arts Council provided a grant to committee to produce the night of Kumbaa that was held at the Winston Lake YMCA. Renee Andrews took on the unofficial title of convener of the city-wide committee and pulled everyone together each year. Under her leadership, Triad Cultural Arts, Inc was approached in 2007 to take on the official role of convener of the City-Wide Kwanzaa Committee.
(This history is a living organism and will continue to expand. If you have history that needs to be include please email: charry@triadculturalarts.org If you lose your history, you lose your power)
Coming Eventz is an online guide to urban interest events and happening in Triad/Piedmont, North Carolina. There is also a listing of art galleries, meetings, cultural organizations, North Carolina HBCU sports and travel spots. You may post your events for free and sign-up for the monthly e-newsletter.