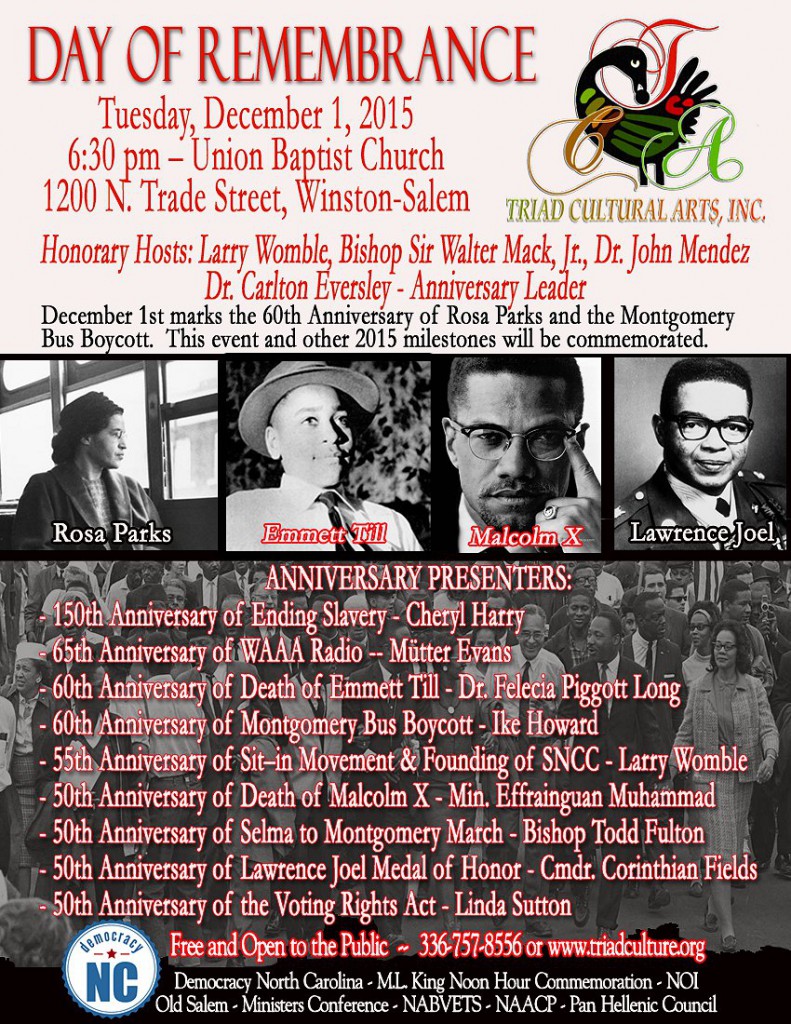 In observance of the 60th Anniversary of Rosa Parks and the Montgomery Bus Boycott, Triad Cultural Arts and Democracy North Carolina will sponsor a Day of Remembrance on Tuesday, December 1, 2015, 6:30 pm at Union Baptist Church. Honorary hosts for the event are Larry Womble, former NC state Senator, Bishop Sir Walter Mack, Jr., and Dr. John Mendez. Dr. Carlton Eversley will serve as anniversary leader. Parents are encouraged to bring youth to learn more about African American history within the broader context of American history.
Included in the commemoration are other Civil Rights events that have a milestone anniversary in this year. Representatives from correlating organizations will give a historical overview of the event and relate it to contemporary experiences. The events and presenters are as follows:
• 150th Anniversary of Ending Slavery – Cheryl Harry, Old Salem Museums & Gardens
• 65th Anniversary of WAAA Radio — Mütter Evans, Past WAAA Owner and Founder of the ML King Noon Hour Commemoration Celebration
• 60th Anniversary of Death of Emmett Till – Dr. Felecia Piggott Long, Educator and Historian
• 60th Anniversary of Montgomery Bus Boycott – Ike Howard, Winston-Salem NAACP 55th Anniversary of Sit–in Movement & Founding of the Student Nonviolent Coordinating Committee (SNCC) – Larry Womble, Former NC State Senator
• 50th Anniversary of Death of Malcolm X – Min. Effrainguan Muhammad, Nation of Islam
• 50th Anniversary of Selma to Montgomery March – Bishop Todd Fulton, Minister's Conference of Winston-Salem and Vicinity
• 50th Anniversary of Lawrence Joel Medal of Honor – Cmdr. Corinthian Fields, NABVETS
• 50th Anniversary of the Voting Rights Act – Linda Sutton, Democracy North Carolina
Representatives from the Pan Hellenic Council will light a candle in honor of the individuals who participated in each momentous event.
Union Baptist church is located at 1200 N. Trade Street. The pastor is Bishop Sir Walter Mack, Jr.